What's New at The Art of Stitching!

05/01/19
Congratulations to Brian S for winning the Monthly Drawing for April!
Be sure to sign up for next month's drawing for a chance to win a $10 gift certificate!


---

02/03/19

It's been a long time coming! This photo was found in a lost email and we're just now getting it added to the gallery! Sorry we're so late Veronica!

Lady with Ermine was added to Page 7 of our Photo Gallery!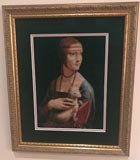 ---

01/27/19

Twelve NEW landscape patterns from Vincent van Gogh have been added!
| | | |
| --- | --- | --- |
| Avenue in Voyer... | Banks of the Seine | Belvadere Overlooking... |
| Daubigny's Garden 1 | Daubigny's Garden 2 | Daubigny's Garden 3 |
| Doctor Gachet's Garden | Edge of Wheatfield.. | Field with Poppies |
| Landscape with Wheat... | Sunset at Montmajour | Wheatfield with Lark |
---
01/21/19
A new free pattern is now available for download!
It's Window at Vers Miniature by Andre Derain!
Eight new Petite Patterns have been added by artists Mary Cassatt and Georgia O'Keeffe!
---
01/20/19
We will also be continuing our Monthly Drawing! The first winner will be chosen at at the end of February but you can sign up now for your chance to win a $10 gift certificate!
---
06/17/18
This site needs some major updating in order to be compatible with PayPal new policies. Right now I just don't have the means or the time to get this done. This means I will be shutting down the site at the end of the month.
I may or may not come back online. I'm not sure what the future holds. I will stay online and patterns will be available for purchase for the next two weeks or until PayPal is no longer compatible, whichever comes first.
I will still have newsletter addresses available for several months and also the Facebook page. If or when I do come back online I can send notices out to those who are interested. It's been a great time! Thanks to all my loyal customers!